One 1932 Ford roadster was driven by Jimmy Keegan as a hot rod. According to Jimmy Wycroft, it was equipped with an in-line six cylinder engine and a counterweighted crankshaft.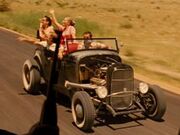 In 1957, Keegan took his girlfriend, Suzie, his friend Tommy Shiner, and Tommy's girlfriend, Lindy on a drive around the Nevada desert. As Hound Dog blared from the radio, the car crossed over the open terrain, scaring a prairie dog, and got back onto the highway. Passing an army convoy, Shiner goaded Keegan into racing the lead car, while the girls in the back pressured the army driver into the drag race. Even passing around an oncoming truck, Keegan's roadster sped past the Ford staff car, which eventually slowed to turn toward the military base, while Keegan zipped past the Atomic Cafe.
Watching from the entrance of the base, Jimmy Wycroft had bet on the older roadster's victory, as he had once worked on such cars in his father's garage.
Appearances
Edit
External links
Edit
Ad blocker interference detected!
Wikia is a free-to-use site that makes money from advertising. We have a modified experience for viewers using ad blockers

Wikia is not accessible if you've made further modifications. Remove the custom ad blocker rule(s) and the page will load as expected.