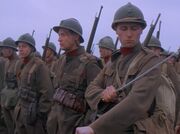 The 9th Belgian Infantry suffered heavy casualties in Flanders, 1916 with the company being reduced from two hundred and sixty-four to seventy. When all the officers were killed in battle, Henri Defense found himself in command of the infantry division.
In August, the company was assigned to the French 14th Company under the command of Lieutenant Alain Moreau. The company was all but wiped out in the trenches of the Battle of the Somme with many of its members killed or taken as prisoners of war.
Appearances
Edit
Ad blocker interference detected!
Wikia is a free-to-use site that makes money from advertising. We have a modified experience for viewers using ad blockers

Wikia is not accessible if you've made further modifications. Remove the custom ad blocker rule(s) and the page will load as expected.