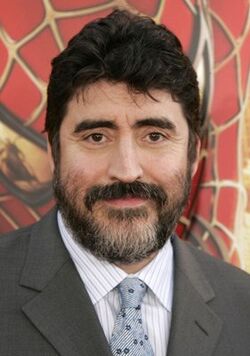 Alfred Molina (born May 24, 1953) is a British/American actor, whose first major film role of his career was Satipo in Raiders of the Lost Ark. He had to be covered with tarantulas in the film - and as a bit of irony, his most well-known role is an enemy of Spider-Man, Doctor Otto Octavius (Dr. Octopus) in Spider-Man 2.
Other notable films of his include Ladyhawke, Boogie Nights, Magnolia, Chocolat, Identity, Frida (for which he was nominated for a Best Supporting Actor BAFTA), and The Da Vinci Code. He also appeared as Snidely Whiplash, opposite Brendan Fraser, in Dudley Do-Right, and as a British inspector in The Pink Panther 2.
In 2015 he played a role in another Lucasfilm Ltd. production, Strange Magic, voicing the Fairy King.
External links
Edit
Ad blocker interference detected!
Wikia is a free-to-use site that makes money from advertising. We have a modified experience for viewers using ad blockers

Wikia is not accessible if you've made further modifications. Remove the custom ad blocker rule(s) and the page will load as expected.