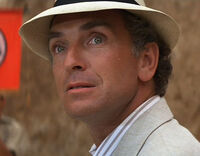 "We are simply passing through history. This... this is history."
The Arabs are a type of adversary encountered in the video game Indiana Jones and the Emperor's Tomb. Lightly armed with a Turkish Knife, they are quick and agile, and can cause Indy some trouble when being fought.
They are only on the levels of the game where you are in Istanbul, where they are helping Von Beck into excavating the Palace of Belsaurius.