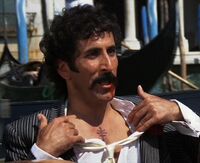 "Who are you?"
The title of this article is conjectural. Although this article is based on canonical information, the actual name of this subject is pure conjecture. Please see the reasons for this title in the "
Behind the scenes
" section below, and/or the relevant discussion on the
talk page
.
The Bible at Marshall College was a large antique leather-bound Bible. Because it was so large, it had two clasps to help keep it closed. It contained illustrations and its text was in German. It likely dated to a time after the development of the printing press.
In 1936, Indiana Jones had the Bible with him in his Archaeology class. As he finished with a class, Marcus Brody came to tell him that two men from Army Intelligence had arrived at Marshall College to see Jones. Departing from the classroom, Jones picked up the Bible along with several other items, and carried it from the classroom to the large lecture hall where Major Eaton and Colonel Musgrove waited.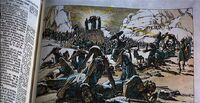 Setting the Bible down on the stage's table, Jones began to talk with the two men. After the two agents professed their ignorance over the Ark of the Covenant, Jones opened up the Bible and turned to a colored illustration showing the Ark's usefulness in battle.
This illustration made the military men realize why Adolf Hitler might be interested in the artifact.
Behind the scenes
Edit
The illustration in the Bible was created by Ralph McQuarrie.
Appearances
Edit