British East Africa, September 1909
Talk

0
3,881pages on
this wiki

"British East Africa, September 1909" is the third episode of The Young Indiana Jones Chronicles, and the third episode in season one. The episode originally aired on ABC on March 18, 1992. For home video, it was paired up with "Paris, September 1908" to become Passion for Life.
Plot summary
Edit
Indy is at the Metropolitan Foundation for Educational Quality's Annual Celebrity Tennis Shoe Auction & Dinner, at the City Hotel & Conference Center. Two women set at his table—one is an animal rights activist and vegetarian, and the other holds opposing views. The two begin to fight, with Indy in the middle. He tells them it reminds him of when he and his family were on his father's world lecture tour, and were invited to a coffee plantation in British East Africa that was owned by a friend of his father's.
Appearances
Edit
Cast and characters
Edit
Locations
Edit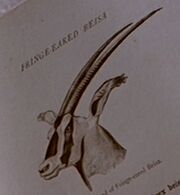 Miscellania
Edit
Production
Edit
At the end of this episode, Indy gives his binoculars to Meto. However, the 2008 reference book Indiana Jones: The Ultimate Guide shows the binoculars as one of Indy's artifacts in his house in 1957.[1]
Television
Edit
In the original episode "British East Africa, September 1909", there is a scene near the beginning where Henry Sr. and his friend Medlicot exchange their college greeting a la Henry Sr. and Marcus Brody's exchange of the greeting in Indiana Jones and the Last Crusade. This scene was not included in Passion for Life.
Home video
Edit
"British East Africa, September 1909" was released on PAL VHS and on Laserdisc in 1993. In 1996, the episode was edited into Passion for Life, which was released on VHS in 1999 and DVD in 2007.
Adaptations
Edit
Reception
Edit
Notes and references
Edit
External links
Edit