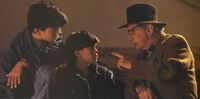 "Listen, kid. Who's tellin' this story: me or you?"
This article is non-
canon
. This article covers a subject that has been deemed non-canon by either the author or the
Indiana Jones
licensees, and thus should not be taken as a part of the "real"
Indiana Jones
universe.
The Clown was an entertainer.
Appearances
Edit