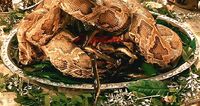 Coiled Wrigglies (also known as "Snake Surprise") was a dish served at the Guardian of Tradition Dinner given at Pankot Palace in 1935, as the second course. It was live baby eels stuffed inside a moist boa constrictor. One of the guests at the dinner, a merchant, was very pleased when the dish was served. Another guest enjoyed the eels with great gusto.
Appearances
Edit
Ad blocker interference detected!
Wikia is a free-to-use site that makes money from advertising. We have a modified experience for viewers using ad blockers

Wikia is not accessible if you've made further modifications. Remove the custom ad blocker rule(s) and the page will load as expected.