The British Museum holds a crystal skull of dubious provenance, acquired in 1897. Indiana Jones once saw it and later remarked in 1957 that it had "interesting craftsmanship, but that's about it."
Behind the scenes
Edit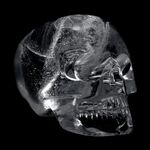 Analysis of the British Museum's crystal skull indicates it was probably produced in the 19th century, using techniques unavailable to the ancient Mesoamericans originally purported to have crafted it.
Appearances
Edit
External links
Edit
Ad blocker interference detected!
Wikia is a free-to-use site that makes money from advertising. We have a modified experience for viewers using ad blockers

Wikia is not accessible if you've made further modifications. Remove the custom ad blocker rule(s) and the page will load as expected.