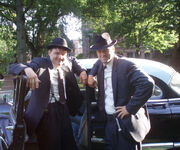 David Kilde is a Taurus-nominated stunt performer and stunt rigger who doubled Ilya Volok in Indiana Jones and the Kingdom of the Crystal Skull. He has worked on blockbusters such as The Island, The Matrix Reloaded, Crank: High Voltage, Swordfish and The Last Stand.
His television stunt doubling and acting appearances include shows such as Arrested Development, Law & Order: Los Angeles, CSI: Miami, The Mentalist, Nightman, 24, Numb3rs and Terminator: The Sarah Connor Chronicles.
External links
Edit
Ad blocker interference detected!
Wikia is a free-to-use site that makes money from advertising. We have a modified experience for viewers using ad blockers

Wikia is not accessible if you've made further modifications. Remove the custom ad blocker rule(s) and the page will load as expected.