Emilie was a governess, in charge of Princess Sophie von Hohenberg. She usually accompanied her ward to the riding school.
Biography
Edit
She befriended Helen Margaret Seymour in 1908 when her ward Princess Sophie von Hohenberg invited young Indiana Jones to a walk, and talked about Emilie's visit in London.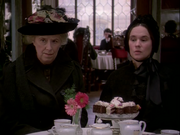 She was troubled when she discovered that the princess was missing. Jones had taken Sophie away to go ice skating and when Emilie eventually caught up with them, accompanied by two policemen, she was furious at the boy for his lack of responsibility.
Behind the scenes
Edit
Emilie is played by actress Pernilla August, perhaps best known for playing Shmi Skywalker in Star Wars and the Messiah's mother in a 1999 TV version of Jesus.
Appearances
Edit
Ad blocker interference detected!
Wikia is a free-to-use site that makes money from advertising. We have a modified experience for viewers using ad blockers

Wikia is not accessible if you've made further modifications. Remove the custom ad blocker rule(s) and the page will load as expected.