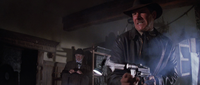 "...don't call me Junior!"
The title of this article is a nickname. This article is about a canonical subject that lacks a proper name, and is known only by its nickname or callsign. Please see the relevant discussion on the
talk page
or explanation in the article itself.
The French Sergeant was a French soldier stationed in French Equatorial Africa during World War I.
In January 1917, the sergeant served under Captain Rostand. When Rostand was sent to take the German nationals, Albert and Helene Schweitzer into custody for deportation, the sergeant assisted by overseeing Mrs. Schweitzer packing their belongings. When the Belgian officers, Captain Defense and Lt. Baudouin tried to intervene on behalf of the Schweitzers, Captain Rostand ordered the sergeant to hold them and shoot them if they continued to hinder the French orders. Once the Schweitzers were taken aboard the French patrol boat, the sergeant also boarded the craft, bound for Port-Gentil.
Behind the scenes
Edit
Antoine Valenti played the role of French Sergeant in the episode "Congo, January 1917" of the The Young Indiana Jones Chronicles.
Appearances
Edit
Ad blocker interference detected!
Wikia is a free-to-use site that makes money from advertising. We have a modified experience for viewers using ad blockers

Wikia is not accessible if you've made further modifications. Remove the custom ad blocker rule(s) and the page will load as expected.