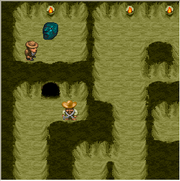 The Mayan Funeral Mask was a treasure passed down in the family of tribal leader Pacal Hunac in Mexico.
During the 1930s the Mayan mask was stolen, which caused Pacal to expect the vengeance of his dead forefathers. Marcus Brody learned of this and asked Indiana Jones to help recover the stolen artifact.
Indy tracked the thieves to the local regimental headquarters of the Zapatista Irregulars - an abandoned temple. There he found Pacal, who showed him a secret entrance into the caves below the temple. Eventually, Indy met Commandante Dos Equis, who offered to release the Funeral Mask in exchange for another ancient treasure. Jones agreed and traded away an artifact he had found earlier during the adventure.
Indy returned the mask to Hunac, who commended him for his bravery.
Appearances
Edit
Ad blocker interference detected!
Wikia is a free-to-use site that makes money from advertising. We have a modified experience for viewers using ad blockers

Wikia is not accessible if you've made further modifications. Remove the custom ad blocker rule(s) and the page will load as expected.