A
biplane flown by Hermann Göring‎‎
served as a
German
air unit supporting in the
Battle of Verdun
. It was a single propeller biplane with two machine guns and several under-wing bombs.
In September 1916, it was flown by Hermann Göring on a mission to harass French communication lines by attacking couriers on the ground. Göring spotted a courier on a motorcycle and turned to attack it. The courier sped onward down the road, while Göring used the machine guns to strafe at the driver. When the driver turned through some farm buildings, Göring dropped two bombs, with the second one getting close enough to knock the courier off his motorbike and into a crater. With the courier not moving, the biplane flew on.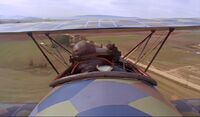 Appearances
Edit
Ad blocker interference detected!
Wikia is a free-to-use site that makes money from advertising. We have a modified experience for viewers using ad blockers

Wikia is not accessible if you've made further modifications. Remove the custom ad blocker rule(s) and the page will load as expected.