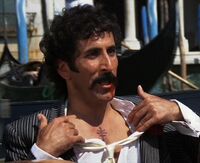 "Who are you?"
The title of this article is conjectural. Although this article is based on canonical information, the actual name of this subject is pure conjecture. Please see the reasons for this title in the "
Behind the scenes
" section below, and/or the relevant discussion on the
talk page
.
A German pilot was one of two Luftwaffe airmen who chased down Indiana Jones and his father following their escape from the D-138.
Biography
Edit
Piloting a Pilatus P-2 aircraft in 1938, a Nazi aviator and his wingman approached the D-138 zeppelin that had turned back towards Berlin, they spotted a fleeing German biplane. Giving chase, they opened fire on the slower biplane. Eventually the biplane was forced down and crashed into a farm building.
As the two American fugitives Indiana Jones and his father stole a car, the pilot gave chase, strafing the ground behind the car in a dive attack. Following the automobile around a bend in the road, the pilot was forced into a tunnel. With its wings snapping off at the tunnel entrance, the plane's fuselage zoomed down the passage. The Americans pulled over to let the flaming plane pass by and the pilot looked at his situation with uncertainty. As the plane exited the tunnel, it exploded, killing the aviator. Jones and his father managed to pass through the burning wreckage without mishap.
Behind the scenes
Edit
The role of the German pilot in Indiana Jones and the Last Crusade was not credited and has no lines.
Appearances
Edit
Ad blocker interference detected!
Wikia is a free-to-use site that makes money from advertising. We have a modified experience for viewers using ad blockers

Wikia is not accessible if you've made further modifications. Remove the custom ad blocker rule(s) and the page will load as expected.