Herman Mueller (sometimes called Hermie) was a friend of Indiana Jones during the future archaeologist's early teenage years, while Indy lived in Utah.
Biography
Edit
Herman Mueller, Jr. was born in 1899 to the wealthy treasure hunter, Herman Mueller, Senior.
The junior Mueller was a Boy Scout and in 1912, Herman and his friend Indiana Jones went on a Boy Scout equestrian camping trip together in Utah. After separating from the rest of the troop, Herman and Indy explored a cave in a canyon, where they discovered Fedora and his crew digging up the Cross of Coronado. Indy sent Herman back to find Mr. Havelock and inform the Sheriff that there were looters in the caves. After being scared by a snake, Herman took off on his mission.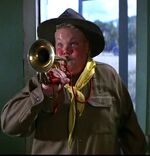 Shortly after Indy returned to his house, Herman showed up, announcing his arrival with his bugle. He had succeeded in bringing the sheriff, but the lawman took Fedora's word for it that the relic was stolen from him and his gang. The Cross was returned to them and presented to Panama Hat, who was seen as the rightful owner.[1]
A week later, Herman accompanied Indy and Helen Margaret Seymour to Klondike, Yukon, in search of a treasure of gold.[2]
Behind the scenes
Edit
J. J. Hardy portrayed Herman in Indiana Jones and the Last Crusade.
In the caves scene where they are separated, Indy didn't tell Herman he would return home or any other appointment, saying only 'I don't know... I'll think of something' instead. It is not therefore explained how Herman knew that Indy would be home, and why he decided to take the Sheriff there.
Several other characters are near carbon copies of Herman; among them are Herbert Wozcinski from Indiana Jones und das Verschwundene Volk and Ketts from Young Indiana Jones and the Mountains of Superstition. It has been speculated that the authors of these stories intended for these characters to be Herman, and that the actions (or inaction) of Lucasfilm's continuity department resulted in the discrepencies.
Appearances
Edit
Notes and references
Edit
Ad blocker interference detected!
Wikia is a free-to-use site that makes money from advertising. We have a modified experience for viewers using ad blockers

Wikia is not accessible if you've made further modifications. Remove the custom ad blocker rule(s) and the page will load as expected.