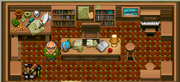 Señor Herrera was a wealthy landowner and shady artifacts collector in Mexico living in close proximity to the Site R temple complex. He often employed bandits and treasure hunters to guard his estate and loot local temples.
During the 1930s, Herrera had accumulated a small fortune of stolen artifacts that he intended to sell to overseas private collectors or museums. Among other things, he possessed a rare Spider Lamp, which was later recovered by Indiana Jones.
Appearances
Edit
Ad blocker interference detected!
Wikia is a free-to-use site that makes money from advertising. We have a modified experience for viewers using ad blockers

Wikia is not accessible if you've made further modifications. Remove the custom ad blocker rule(s) and the page will load as expected.