Indiana
Talk

11
4,137pages on
this wiki
CHARACTER
Indiana
Gender
Male[1]
Death
April 5, 1916[2]

Allegiance(s)
"I've got a lot of fond memories of that dog."
Indiana was the family dog of the Joneses. An Alaskan Malamute that grew up alongside Henry Jones, Jr., the dog was considered by Henry to be his best friend.[1]
Biography
Edit
"I had a dog when I was a kid and I never got over it when he died. He was my best friend."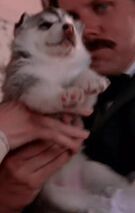 The puppy Indiana was given to young Henry Jones, Jr. by his parents Anna and Henry Sr. while still in the crib at their home in Princeton, New Jersey.
Jones had such affection for the Alaskan Malamute that he considered his best friend,[1] he adopted the name as his own growing up, calling himself "Indiana" by 1905.[2]
Together the pair performed scientific experiments, seeing if they could break the land speed record, or how to get to the moon. When the family departed for a two year world lecture tour between 1908 and 1910, Indiana stayed in the United States.[1]
After the death of Anna, Henry Jr. and his father took Indiana with them to Utah in 1912, and the dog was present when the younger Henry returned to their home with the Cross of Coronado.[3] At some point, Indiana saved Henry's life from a rattlesnake.[4] Indiana later died of old age in April 1916 while his namesake had left for Europe to enlist in World War I.[2]
Behind the scenes
Edit
"So I named the character after my dog and ultimately, we put that in the movie."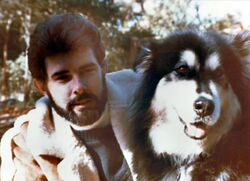 Appearances
Edit
Notes and references
Edit