"Dr. Jones, what you look at?"
This article would greatly benefit from the addition of one or more new images. Please
upload
a relevant image and place it here. Once finished, this notice may be removed.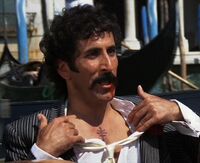 "Who are you?"
The title of this article is conjectural. Although this article is based on canonical information, the actual name of this subject is pure conjecture. Please see the reasons for this title in the "
Behind the scenes
" section below, and/or the relevant discussion on the
talk page
.
By Thanksgiving 1993, a granddaughter of Indiana Jones had become an adult and the mother of Harry. After she had presented the turkey to the Jones family, she sat with her son and asked if he wanted cranberry sauce. His refusal and unwillingness to even try it prompted Indiana to recount his time China in 1910.
Behind the scenes
Edit
Indiana Jones' granddaughter goes unnamed in "Peking, March 1910". A granddaughter named Lucy is mentioned in "Ireland, April 1916" but the context suggests she's of school age and a separate character.
Appearances
Edit
Ad blocker interference detected!
Wikia is a free-to-use site that makes money from advertising. We have a modified experience for viewers using ad blockers

Wikia is not accessible if you've made further modifications. Remove the custom ad blocker rule(s) and the page will load as expected.