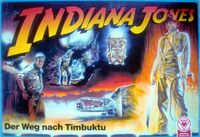 Indiana Jones: Der weg Nach Timbuktu (Indiana Jones: The Road to Timbuktu) is a German-language board game, released by ASS (Altenburger und Stralsunder Spielkarten-Fabriken) in 1990. The game presents an original story centered on a lost mask of the pharaohs.
Publisher's summary
Edit
Original German
Edit
Indiana Jones bricht auf, um in Timbuktu die goldene Pharaonen—Maske zu holen, die vor mehr als 3000 Jahren aus Ägypten gestohlen und von einem Freund entdeckt wurde. Dieser Freund hat die Maske bei einem 100jährigen Tuareg versteckt, bevor er von habgierigen Ausländern verschleppt und nie mehr gefunden wurde.
Vor seiner Verschleppung konnte der Freund noch eine Nachricht an Indiana Jones senden und ihm das Versteck der Maske mitteilen. Jedoch scheint das Geheimnis verraten worden zu sein, denn auch andere machen sich auf den Weg nach Timbuktu und geben sich als Indiana Jones aus.
Nur der wahre Indiana Jones wird die Prüfungen und Abenteuer bestehen und vom weisen Tuareg die Goldmaske bekommen.
English translation
Edit
Indiana Jones sets out for Timbuktu to retrieve the Golden Pharaoh Mask, which was stolen more than 3000 years ago from Egypt and recently discovered by a friend. This friend hid the mask with a 100-year-old Tuareg nomad before he was kidnapped by greedy foreigners, never to be seen again.
Before his abduction, the friend was able to send Indiana Jones a message, revealing the hiding place of the mask. However, the message must have been intercepted, because others are on their way to Timbuktu, pretending to be Indiana Jones.
Only the real Indiana Jones will withstand the trials and adventures necessary to obtain the gold mask from the Tuareg elder.
External links
Edit
Ad blocker interference detected!
Wikia is a free-to-use site that makes money from advertising. We have a modified experience for viewers using ad blockers

Wikia is not accessible if you've made further modifications. Remove the custom ad blocker rule(s) and the page will load as expected.