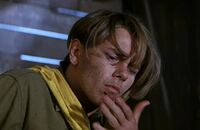 "The subject of this article was cancelled."
This article covers a film, book, comic or game that was cancelled or replaced by another product. Cancelled material is usually not
canon
; however, aspects of such material sometimes find their way into later products and thus become canon. You have been warned.
Indiana Jones: The Dance of Death was an unpublished comic series of Dark Horse Comics.
The comic's story was set in 1940. Indiana Jones was to go to an island in the Indian Ocean, where the native worshippers had become ill with an outbreak of plague. Indy eventually discovers that the source of the plague is in reality the Fourth Horseman of the Apocalypse, who upon the world is releasing his evils. Ultimately, Indy fights zombies and escapes an earthquake which hits the area, and ends the Horseman's threat once and for all.[1]
Although the comic series went unpublished when Dark Horse cancelled the Indiana Jones comic book line, the story's events were referenced in the The World of Indiana Jones.[1]
Notes and references
Edit
Ad blocker interference detected!
Wikia is a free-to-use site that makes money from advertising. We have a modified experience for viewers using ad blockers

Wikia is not accessible if you've made further modifications. Remove the custom ad blocker rule(s) and the page will load as expected.