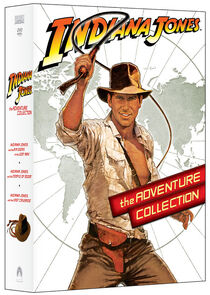 Indiana Jones - The Adventure Collection is a DVD box set of special editions of the first three Indiana Jones feature films. The three disc set was released on May 13, 2008, by Paramount Pictures to promote the theatrical release of the fourth film. In addition to having remastered versions of the first three films, it had many new special features.
The special editions of the first three films were first made available in this collection, then were released on individual DVDs in October 2008. Additionally, these special editions were combined with the two-disc DVD release of Indiana Jones and the Kingdom of the Crystal Skull in October 2008 to form the Indiana Jones - The Complete Adventure Collection DVD box set.
DVD set contents
Edit
External links
Edit
Ad blocker interference detected!
Wikia is a free-to-use site that makes money from advertising. We have a modified experience for viewers using ad blockers

Wikia is not accessible if you've made further modifications. Remove the custom ad blocker rule(s) and the page will load as expected.