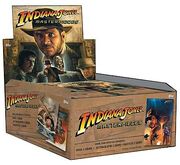 Indiana Jones Masterpieces is a Topps 90 card base set series of featuring art inspired by and involved in the production of the Indiana Jones universe. Categories of art include character portraits, poster art, artists' visions, comic, video game, and other expanded adventure creations. Further features are etched foil cards, and sketch cards, featuring one-of-a-kind creations by a number of well known artists, drawn directly on cards.
The series was released in November 2008.
Sketch card artists
Edit
External links
Edit
Ad blocker interference detected!
Wikia is a free-to-use site that makes money from advertising. We have a modified experience for viewers using ad blockers

Wikia is not accessible if you've made further modifications. Remove the custom ad blocker rule(s) and the page will load as expected.