Ad blocker interference detected!
Wikia is a free-to-use site that makes money from advertising. We have a modified experience for viewers using ad blockers

Wikia is not accessible if you've made further modifications. Remove the custom ad blocker rule(s) and the page will load as expected.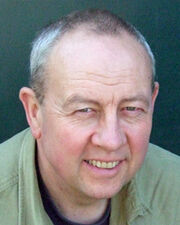 Jim Dowdall is a British stunt coordinator, stunt performer, and actor who worked on Indiana Jones and the Last Crusade.
His credits include Where Eagles Dare, Superman II, A Bridge Too Far (with Sean Connery), George Lucas' Star Wars and The Empire Strikes Back, For Your Eyes Only (with Nick Gillard), Underworld (1985, with Denholm Elliott), Tim Burton's Batman, GoldenEye, Tomorrow Never Dies, Steven Spielberg's Saving Private Ryan, Enemy at the Gates, Die Another Day, The Bourne Supremacy and Safe House.
In recent years, he has also done stunt coordination for various UK television and movie productions including EastEnders and The Bill.
He has on various occasions appeared at numerous Star Wars conventions to discuss his uncredited work and fun times he had playing numerous characters in the first two original installments of the franchise.
On working with Harrison Ford (who he had previously doubled in Hanover Street and Force 10 from Navarone): 
"As I mentioned, I got to know Harrison much better during the course of the other films where I was his stunt double. The last time we worked together was on the boat chase for Indiana Jones and the last Crusade [...] I just remember getting wet a lot and being blown up and making some good money for it. Vic Armstrong, an old friend, who was the stunt co-ordinator, was very keen on thorough rehearsals on all the films I've done with him so we were well prepared."
―Jim Dowdall
External links
Edit