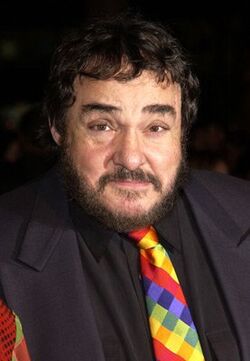 John Rhys-Davies (born May 5, 1944) played Sallah in Raiders of the Lost Ark and Indiana Jones and the Last Crusade and in audio and video segments used in Indiana Jones Adventure: Temple of the Forbidden Eye.
He has made other memorable appearances in his career. He portrayed Professor Maximillian Arturo in the television series "Sliders" as well as General Leonid Pushkin in the James Bond film The Living Daylights. He may be more commonly known for his portrayal of the dwarf Gimli in The Lord of the Rings trilogy (with Cate Blanchett and Christopher Lee). 
.
External links
Edit
Ad blocker interference detected!
Wikia is a free-to-use site that makes money from advertising. We have a modified experience for viewers using ad blockers

Wikia is not accessible if you've made further modifications. Remove the custom ad blocker rule(s) and the page will load as expected.