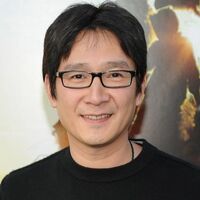 Jonathan Ke Quan (born August 20, 1971) is a Vietnamese American actor and stunt choreographer.
Biography
Edit
Early life
Edit
Quan was born Ke Hunh Quan in Saigon, South Vietnam, but was forced to leave his country when the Army of the Republic of Vietnam was defeated during the Fall of Saigon. His family was selected for political asylum and emigrated to the United States. He attended Alhambra High School in Alhambra, California. After high school, Quan graduated from the University of Southern California, the USC School of Cinematic Arts. He is fluent in Vietnamese, English, Cantonese, and Mandarin.
Quan appeared as a child actor in two popular films in the 1980s: as Data in the cult classic The Goonies, and as Short Round in Indiana Jones and the Temple of Doom. During the filming of Indiana Jones and the Temple of Doom, his family changed his name to Ke Huy Quan.
He then played Sam on the short-lived TV series Together We Stand (1986–1987) and played Jasper Kwong in the sitcom Head of the Class from 1989 to 1991. He also starred in the movie Breathing Fire (1991) and had a cameo in Encino Man (1992). He last appeared onscreen in the 2002 Hong Kong movie, Second Time Around, alongside Ekin Cheng and Cecilia Cheung. He has also worked as a stunt choreographer for X-Men and The One.
External links
Edit
Ad blocker interference detected!
Wikia is a free-to-use site that makes money from advertising. We have a modified experience for viewers using ad blockers

Wikia is not accessible if you've made further modifications. Remove the custom ad blocker rule(s) and the page will load as expected.