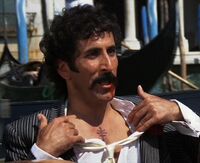 "Who are you?"
The title of this article is conjectural. Although this article is based on canonical information, the actual name of this subject is pure conjecture. Please see the reasons for this title in the "
Behind the scenes
" section below, and/or the relevant discussion on the
talk page
.
The daughter of Kobayashi was a friend of Indiana Jones.
Biography
Edit
Kobayashi's daughter and Indiana Jones met in Japan in 1936, when Indy was going to visit the professor. When they met, she tried to stab him with a knife, but he took the knife from her and asked her where the professor was and why she tried to stab him. She revealed that he had commited hara-kiri because he couldn't live with betraying his country by not showing General Makimura where the dragon was and she blamed him for it.
Indy convinced her to help him prevent the dragon from destroying America. She showed him the way to the military base where the dragon was supposed to be. The woman didn't go inside with him because she thought that it would be too dangerous to be there. After Indy had killed the dragon, they met when he was on a dock going to a boat that was going to take him away from Japan. She came to say goodbye and thanking him for saving her people from the dragon though she feared that worse times were to come.
Appearances
Edit
Ad blocker interference detected!
Wikia is a free-to-use site that makes money from advertising. We have a modified experience for viewers using ad blockers

Wikia is not accessible if you've made further modifications. Remove the custom ad blocker rule(s) and the page will load as expected.