Louis Blériot was a French inventor, engineer and pilot. He is credited for developing the world's first working monoplane. In 1909, he was the first pilot to cross the English Channel in a heavier-than-air craft, winning a newspaper's challenge prize. During World War I, his company designed and built planes used by the Allied forces.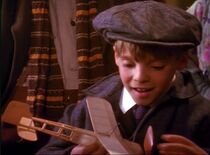 In 1908, Pablo Picasso and the waiter at a Montmartre restaurant agreed to trade works: Picasso would paint a painting for the waiter, and the waiter would build a flying model of Blériot's monoplane for Picasso. One evening in September 1908, Picasso showed up with Georges Braque, Norman Rockwell, Indiana Jones, and two prostitutes. The waiter gave Picasso a box containing the Blériot model plane, which excited Jones. Braque commented that what Blériot was doing for aviation, he and Picasso were doing for art. Later, when the prostitutes' pimps arrived, Jones used the model plane to attack and distract the pimps.
Appearances
Edit
External links
Edit
Ad blocker interference detected!
Wikia is a free-to-use site that makes money from advertising. We have a modified experience for viewers using ad blockers

Wikia is not accessible if you've made further modifications. Remove the custom ad blocker rule(s) and the page will load as expected.