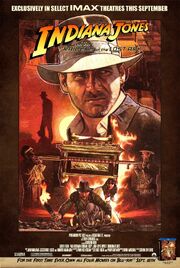 Mark Raats is an Australian based illustrator who's done work for Lucasfilm Ltd. for over a decade. He created a limited edition one sheet poster for Indiana Jones and the Kingdom of the Crystal Skull as well as sketchcards for the Topps' Indiana Jones Heritage set and Indiana Jones Movie Photo Cards.
Raats created the booth poster artwork for the IMAX release of Raiders of the Lost Ark and the same illustration was used in conjunction with the launch of Indiana Jones: The Complete Adventures on blu-ray.
External links
Edit
Ad blocker interference detected!
Wikia is a free-to-use site that makes money from advertising. We have a modified experience for viewers using ad blockers

Wikia is not accessible if you've made further modifications. Remove the custom ad blocker rule(s) and the page will load as expected.