Marlon Brando, Jr. was an American actor, film director and political activist. He was Mutt Williams' favorite film star alongside James Dean. Williams modeled himself after one of Brando's film characters.
Behind the scenes
Edit
The scene in Indiana Jones and the Kingdom of the Crystal Skull depicting the arrival of Mutt Williams in his black leather jacket on a motorcycle at the Bedford train station was meant as an homage to a scene of Marlon Brando playing outlaw biker Johnny Strabler, arriving on a motorcycle in The Wild One (1953), right down to the tilted cap.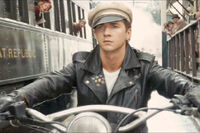 External links
Edit
Ad blocker interference detected!
Wikia is a free-to-use site that makes money from advertising. We have a modified experience for viewers using ad blockers

Wikia is not accessible if you've made further modifications. Remove the custom ad blocker rule(s) and the page will load as expected.