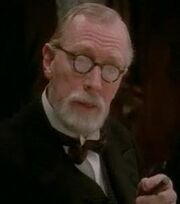 Max von Sydow is an actor, born on the April 12, 1929. He played the role of Sigmund Freud in the episode "Vienna, November 1908" of The Young Indiana Jones Chronicles (later edited into The Perils of Cupid).
His movie credits include Dune, Hannah and Her Sisters, Awakenings, Intacto, Steven Spielberg's Minority Report and the 2011 drama Extremely Loud & Incredibly Close, for which he received his second Oscar nomination.
In 2015, he appeared in Star Wars: The Force Awakens.
External links
Edit
Ad blocker interference detected!
Wikia is a free-to-use site that makes money from advertising. We have a modified experience for viewers using ad blockers

Wikia is not accessible if you've made further modifications. Remove the custom ad blocker rule(s) and the page will load as expected.