The Messenger Pirate served aboard the Bantu Wind under Captain Simon Katanga in 1936. When the Nazi U-boat Wurrfler intercepted the ship, he was on the main deck along with the his captain and rest of the crew. When Katanga prevented Marion Ravenwood, caught by the Nazis, from hitting Dietrich, this sailor and the rest of the crew laughed. After the Nazis took Ravenwood and the Ark of the Covenant back to the submarine, he was ordered by Katanga to find Jones, who was also hidden on the ship.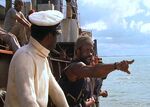 He reported back to his captain that he couldn't find Jones aboard. When Katanga told him to keep looking, the pirate looked across to the U-boat, and pointed out Jones, swimming over to the German submarine and climbing aboard.
Behind the scenes
Edit
The Messenger Pirate is played by Eddie Tagoe in Raiders of the Lost Ark. In LEGO Indiana Jones: The Original Adventures, he is called "First Mate".
Appearances
Edit