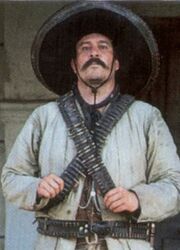 Mike Moroff (b. November 16, 1961) is a Mexican-American actor who portrayed Pancho Villa in the TV movie Young Indiana Jones and the Curse of the Jackal, later edited into the film Spring Break Adventure. His movie credits include From Dusk Till Dawn.
External links
Edit
Ad blocker interference detected!
Wikia is a free-to-use site that makes money from advertising. We have a modified experience for viewers using ad blockers

Wikia is not accessible if you've made further modifications. Remove the custom ad blocker rule(s) and the page will load as expected.