Mike Salisbury is an American brand design artist resposible for creating the font used in the title design for Raiders of the Lost Ark and the Indiana Jones sequels. The final coloring was done by Willardson White.
His work includes the video game Halo, Rolling Stone, Surfer and Playboy magazines, O'Neill and Gotcha surfwear, Levi's 501 jeans, Volkswagen, Suzuki, Honda and Hasbro.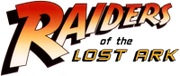 His film work includes more than 300 movies such as Aliens, Jurassic Park, Romancing The Stone, Moulin Rouge and the iconic exploding boxing gloves from Rocky IV. George Lucas is counted as a collector of his work as is Francis Ford Coppola who utilized his creations in Apocalypse Now.
Music legends George Harrison, James Taylor, Randy Newman, Rickie Lee Jones, Ry Cooder, and Ike & Tina were clients as well as Record Labels RCA, Blue Note, United Artists and PolyGram.
Extenal links
Edit
Ad blocker interference detected!
Wikia is a free-to-use site that makes money from advertising. We have a modified experience for viewers using ad blockers

Wikia is not accessible if you've made further modifications. Remove the custom ad blocker rule(s) and the page will load as expected.