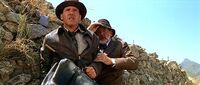 "...don't call me Junior!"
The title of this article is a nickname. This article is about a canonical subject that lacks a proper name, and is known only by its nickname or callsign. Please see the relevant discussion on the
talk page
or explanation in the article itself.
The Military Gendarme was a French gendarme (military serving as civilian police) stationed in Port-Gentil in French Equatorial Africa during World War I.
In January 1917, the Gendarme was stationed at a post near the docks outside the garrison at Port-Gentil when he witnessed an altercation between two Belgian officers, Captain Henri Defense (Indiana Jones) and Lt. Remy Baudouin. When he came to investigate, Defense was on the ground, after receiving a punch from his subordinate. The gendarme asked what had happened, and Defense shrugged off his help, saying that it was Belgian salute.
Behind the scenes
Edit
J.F. Chavrier played the role of Military Gendarme in the episode "Congo, January 1917" of the The Young Indiana Jones Chronicles.
Appearances
Edit