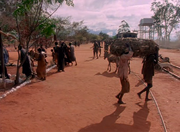 Moshi is an African town, connected with Mombasa via a railway. Indiana Jones and Remy Baudouin on their way to Lake Victoria in 1916, took the wrong train to Moshi, and realized that when they saw Kilimanjaro on their left instead of their right.
The station official told them to take the train to Longido and then Nairobi but again they took the wrong train, this time to Sambella.
Appearances
Edit
External links
Edit
Ad blocker interference detected!
Wikia is a free-to-use site that makes money from advertising. We have a modified experience for viewers using ad blockers

Wikia is not accessible if you've made further modifications. Remove the custom ad blocker rule(s) and the page will load as expected.