A motorcycle is a two-wheeled motor vehicle.
In 1938, Indiana Jones and Henry Jones, Sr escaped Castle Brunwald on a motorcycle with sidecar while persued by Nazis.
Mutt Williams customized motorcycles and in 1957 used his amalgamated Harley-Davidson to find Indiana Jones before he left Bedford, Connecticut and the pair ended up being chased by KGB agents across the campus of Marshall College. Williams later took his bike to Peru but had to leave it at Chauchilla Cemetery when he and Jones were captured by Russian agents.
Appearances
Edit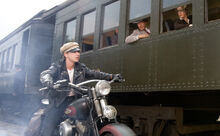 External links
Edit