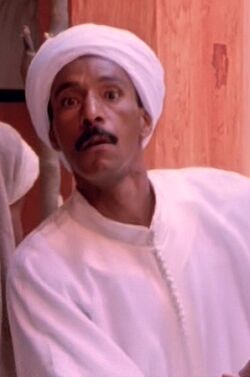 Mustapha Fathi is an actor and casting director who played Haji (credited as "Haji - Harris Servant") in the "Tangiers, July 1909" segment of My First Adventure, newly filmed for home video when The Young Indiana Jones Chronicles was modified to become The Adventures of Young Indiana Jones.
Fathi's filmography is made up entirely of productions shot in Morocco, with other credits including Hideous Kinky, Astérix & Obélix: Mission Cléopâtre, Kidnap & Rescue: The Roy Hallums Story, and Pégase.
External links
Edit
Ad blocker interference detected!
Wikia is a free-to-use site that makes money from advertising. We have a modified experience for viewers using ad blockers

Wikia is not accessible if you've made further modifications. Remove the custom ad blocker rule(s) and the page will load as expected.