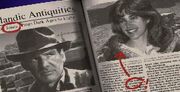 National Archaeology was a periodical.
One edition published an article entitled "Icelandic Antiquities" regarding the 1929 Jastro Expedition in Iceland on which both Indiana Jones and Sophia Hapgood worked. Klaus Kerner used a copy of it in 1939 to track down the two archaeologists as part of his mission to find Atlantis.
Appearances
Edit
Ad blocker interference detected!
Wikia is a free-to-use site that makes money from advertising. We have a modified experience for viewers using ad blockers

Wikia is not accessible if you've made further modifications. Remove the custom ad blocker rule(s) and the page will load as expected.