Oganga, The Giver and Taker of Life is the eleventh film in The Adventures of Young Indiana Jones. It was edited from the episodes "German East Africa, December 1916" and "Congo, January 1917" of The Young Indiana Jones Chronicles.
Publisher's summary
Edit
In a war-torn country, Indiana Jones finds a wellspring of hope in the presence of one remarkable man. On a vital military mission for the Allies, Indy comes across a disease-ravaged African village and is able to rescue one small child from certain death. The presence of the child endangers the mission, leaving Indy in a moral quandary, forced to fight his conscience, his sense of duty, his own men and the enemy as he battles his way across country. Depressed by the turmoil around him, Indy reaches his lowest point. Hope appears in the presence of Albert Schweitzer, a profoundly inspiring and committed doctor, philosopher and musician. Helping out at Schweitzer's jungle hospital, Indy finds his faith in humanity restored and his outlook on life forever changed in this beautiful and moving film.
Appearances
Edit
Individuals
Edit
Locations
Edit
Bonga, Ethiopia (Mentioned only)
VHS Release
Edit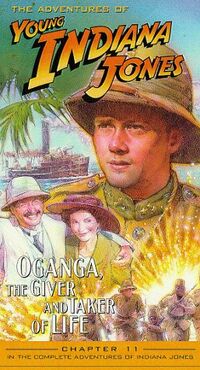 The film was released on VHS in 1999 as The Adventures of Young Indiana Jones: Oganga, The Giver and Taker of Life (Chapter 11 in The Complete Adventures of Indiana Jones).
DVD Release
Edit
The film was released on DVD in 2007 as part of The Adventures of Young Indiana Jones: Volume Two, The War Years (Disc 4). The disc also contained three companion historical documentaries. Disc 9 (Interactive Bonus Disc) of the DVD set included the video game The Adventures of Young Indiana Jones: Special Delivery, based on the film.
DVD Chapters
Edit
Chapter titles are not official, but merely an aid to navigating through the DVD.
1: Opening credits, Battle in German East Africa
2: Receiving a promotion and new orders
3: Heading out of East Africa
4: Indy learns a lesson about colonialism
5: Sgt. Barthelemy confronts Major Boucher
6: Reaching Port-Gentil by boat
7: Starting the return trip
8: Indy and the Schweitzers
9: A mission for Oganga
10: Reverence for Life, and French interference
11: Bidding farewell to the Schweitzers
12: End credits
Companion Historical Documentaries
Edit
External links
Edit
Ad blocker interference detected!
Wikia is a free-to-use site that makes money from advertising. We have a modified experience for viewers using ad blockers

Wikia is not accessible if you've made further modifications. Remove the custom ad blocker rule(s) and the page will load as expected.