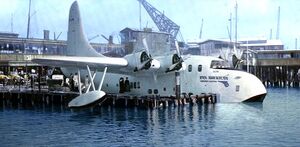 Pan American Airways (abbreviated as Pan Am) was an American airline operator. They operated the Pan Am Clipper, the first transoceanic passenger service, in the 1930s.
Indiana Jones frequently traveled on Pan Am flights as they were the fastest way to travel around the world. Jones kept a ticket of his set of flights in 1936 between San Francisco and Kathmandu (via Honolulu, Wake Island, and Manila) in his journal, having paid $951.60 for the trip.
In 1957, Jones and Mutt Williams traveled on a series of Pan American planes as they flew from New York City to Nazca, Peru, stopping in Havana, Mexico City and Cusco. They started on a DC-3, and their final plane was a small Antonov An-2 cargo biplane, just large enough to carry the pair and Mutt's motorcycle.
Behind the scenes
Edit
The novelization of Indiana Jones and the Kingdom of the Crystall Skull does not mention the airlines used, but mentions two planes: DC-3 and Antonov An-2. The real Pan Am airline never used the Soviet-made An-2, although the plane in the film was an An-2.
Appearances
Edit
External links
Edit
Ad blocker interference detected!
Wikia is a free-to-use site that makes money from advertising. We have a modified experience for viewers using ad blockers

Wikia is not accessible if you've made further modifications. Remove the custom ad blocker rule(s) and the page will load as expected.