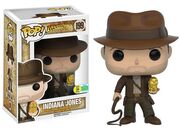 Pop! Indiana Jones Adventure is a series of Indiana Jones vinyl figures from Funko's Pop! range of products.
Numbered 199 in Pop!'s Disney collection, the first figure depicted Indiana Jones with the Chachapoyan Fertility Idol and was an item exclusive to the 2016 San Diego Comic-Con (July 21–24).
Indiana Jones with a Sankara Stone, number 200, was released on July 22 at Disney Parks.[1] Indy's Ride, number 19 of the Pop! Rides series, followed on October 7 as an exclusive to the online Disney Store.[2]
Publisher's summary
Edit
World-renowned archaeologist and adventurer Indiana Jones is missing and you might be his last hope!
The troubles began when Indy followed clues deep into India's Lost Delta and discovered ruins believed to be the legendary Temple of the Forbidden Eye. Indiana Jones went into the temple to investigate, and he has never been seen again.
Are you bold enough to enter the temple to find out what happened to Indy? An adventure beyond your wildest dreams awaits.
Notes and references
Edit
External links
Edit
Ad blocker interference detected!
Wikia is a free-to-use site that makes money from advertising. We have a modified experience for viewers using ad blockers

Wikia is not accessible if you've made further modifications. Remove the custom ad blocker rule(s) and the page will load as expected.