Production Diary: Making of "The Kingdom of the Crystal Skull" is a special feature contained on disc two of the two-disc set of Indiana Jones and the Kingdom of the Crystal Skull.
Contents
Edit
The feature is a documentary following Steven Spielberg and the movie's cast and crew during the various shooting locations. It is the longest of the special features contained on the DVD and lasts about an hour and twenty minutes. The documentary is divided into six sections:
Shooting Begins: New Mexico (14:20)
Back To School: New Haven, Connecticut (10:15)
Welcome to the Jungle: Hilo, Hawaii (6:25)
On-Set Action (27:20)
Exploring Akator (14:25)
Wrapping Up! (7:25)
Shooting Begins: New Mexico
Edit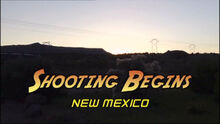 After a short introduction by producer Frank Marshall, the documentary starts with the first shooting day on June 18, 2007. The shooting started in New Mexico where the scenes playing in Nevada (military convoy and teenager's car, outdoor scenes at Hangar 51 and Doomtown) were filmed.
Back To School: New Haven, Connecticut
Edit
New Haven, Connecticut, was the location were the outdoor scenes playing in Bedford, Connecticut were filmed.
Welcome to the Jungle: Hilo, Hawaii
Edit
The scenes playing in the Amazon jungle in Brazil, especially the Jungle Chase, were were filmed in a jungle near Hilo on Hawaii.
On-Set Action
Edit
Some of the scenes were filmed on sets constructed in studios.
Exploring Akator
Edit
This section describes some special effects used for the senes in the Temple of Akator.
Wrapping Up!
Edit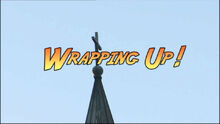 The scene of Indy's and Marion's wedding was one of the last scenes filmed. Since it was the last scene for many cast and crew members, the last-day toast was held there on the set. Steven Spielberg expressed his thanks to everyone for having brought back the fourth Indiana Jones.
Shooting ended on October 11, 2007, with a reduced cast and crew in Fresno, California. The town has multiple airports where scenes playing at the airports of Bedford, Mexico City, and Nazca were filmed. At the end, Steven Spielberg declared the wrap-up.
External links
Edit
Ad blocker interference detected!
Wikia is a free-to-use site that makes money from advertising. We have a modified experience for viewers using ad blockers

Wikia is not accessible if you've made further modifications. Remove the custom ad blocker rule(s) and the page will load as expected.