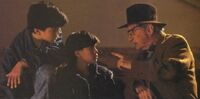 "Listen, kid. Who's tellin' this story: me or you?"
This article is non-
canon
. This article covers a subject that has been deemed non-canon by either the author or the
Indiana Jones
licensees, and thus should not be taken as a part of the "real"
Indiana Jones
universe.

R2-D2 was a robot from another galaxy. He was trapped inside a Jawa Sandcrawler in the desert, until Indiana Jones used his whip to pull down a hose and free the little robot.
Appearances
Edit
External links
Edit
Ad blocker interference detected!
Wikia is a free-to-use site that makes money from advertising. We have a modified experience for viewers using ad blockers

Wikia is not accessible if you've made further modifications. Remove the custom ad blocker rule(s) and the page will load as expected.