Raiders of the Lost Ark: The Adaptation
Talk

0
Share
Ad blocker interference detected!
Wikia is a free-to-use site that makes money from advertising. We have a modified experience for viewers using ad blockers

Wikia is not accessible if you've made further modifications. Remove the custom ad blocker rule(s) and the page will load as expected.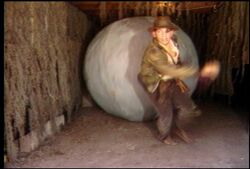 Upon seeing Raiders of the Lost Ark for the first time, three 12-year-old boys from Mississippi decided they should recreate the entire film, with themselves in the lead roles. They spent seven summers, all of their allowance (and later, paycheques), and nearly every waking moment restaging the over 600 individual shots in the film. The only scene they did not manage to do was the fight scene and explosions on the Flying Wing at Tanis -- everything else, including the rolling boulder, submarine, and car/truck chases, were successfully filmed and edited into their production.
Their movie sat on the shelf for years, before underground film critic Harry Knowles managed to unearth it. He showed it at a Texas film festival, where it was greeted with enthusiasm; he then got a copy to Steven Spielberg, who calls the boys' achievement an inspiration.
Now, Chris Strompolos, Eric Zala, and Jayson Lamb appear at film festivals and charity screenings, and provide workshops to teens interested in the film industry.
| | | |
| --- | --- | --- |
| Indiana Jones | .... | Chris Strompolos |
| Marion | .... | Angela Rodriguez |
| Dietrich | .... | Michael Bales |
| Belloq | .... | Eric Zala |
| Toht | .... | Ted Ross |
| Sallah | .... | Alan Stenum |
| Marcus Brody | .... | William Coon |
| Gobler | .... | Kurt Zala |
| Satipo | .... | Clay LaGrone |
| Barranca | .... | Sam Cummings |
| Col Musgrove | .... | Kurt Zala |
| Major Eaton | .... | Jason Ross |
| Jock | .... | Don Hawkins |
| Drinking Man | .... | John Brooks |
| 2nd Nazi | .... | Kurt Zala |
| Ratty Nepalese | .... | Derek Paulson |
| Mean Mongolian | .... | John Brooks |
| Giant Sherpa | .... | Jason Ross |
| Imam | .... | Jayson Lamb |
| Abu | .... | Claudio Rubio |
| Fayah | .... | Rebecca Cummings |
| Dog Man | .... | Scott Lionberger & Joey Roberts |
| Dog | .... | Snickers |
| Arab Swordsman | .... | John Thompson |
| 1st German Agent | .... | Russell Webb |
| 2nd German Agent | .... | Chad Rush |
| 3rd German Agent | .... | Brandon Morano |
| Katanga | .... | Jason Melton |
| Messenger Pirate | .... | Jim Owen |
| Sergeant | .... | Sean Cotter |
| Driver | .... | Joey Roberts |
| Tall Captain | .... | Eric Zala |
| Peruvian Porter | .... | Kurt Zala |
| Eyelids Girl | .... | Laura Harrison |
| Clipper Captain | .... | Jeff Holland |
| Clipper Passanger | .... | Alan Stenum |
| Sallah's Children | .... | Amber Stenum & Justin Suqua |
| Ugly Teeth Arab | .... | Matt Wedgeworth |
| Tent Soldier | .... | Kurt Zala |
| Tent Servant | .... | Claudio Rubio |
| Staff Car Driver | .... | Rachael Beaugez |
| Water Merchant | .... | Kurt Zala |
| Submarine Captain | .... | Michael O-Quin |
| Smoking Soldier | .... | Derek Paulson |
| Stand in for Brody | .... | Alan Stenum |
| Stand in for Toht | .... | Alan Stenum |
| Warehouse Man | .... | Chris Strompolos |
| Angel of Death | .... | Tina Pressley |
| Hovitos | .... | Hudson Wolfe IV, Glenn Keller, Scott Lionberger |
| Students | .... | Joelle Melton, Jayson Lamb, Jennifer Melton |
| Bar Patrons | .... | Walter Mullen, Jason Ross, Scott Lionberger, Kurt Zala, Derek Paulson |
| Street Arabs | .... | John Tucker, Scott Lionberger, Kurt Zala, Alan Stenum, Chuck Gibson, John Thompson, Mike Federline, Joey Roberts, Russell Webb, Brook Barkesdale, Jason Ross, Clay LaGrone, Phillip Northcut |
| Arab Diggers | .... | Matthew Turner, Russell Webb, John Tucker, Lee Tucker, Michael Federline, Joey Roberts, Bruce Duckett, Sonny Miller, Jason Ross, Alan Stenum, Kurt Zala |
| Nazi Soldiers | .... | Matthew Turner, Russell Webb, John Tucker, Lee Tucker, Michael Federline, Joey Roberts, Bruce Duckett, Duckett, Sonny Miller, Jason Ross, Alan Stenum, Kurt Zala, Jeff Holland, Derek Paulson, David Curtis, Don Hawkins, Brook Barkesdale, John Thompson, Scott Lionberger, Michael Wyatt, Lee Field, Rusty Roper, Danny Pollard, Sean Cotter, Michael O-Quin |
| Street People | .... | David Williams, John Thompson, Danny Pollard, Kurt Zala, Scott Lionberger, Sean Cotter, Jason Ross, Joey Roberts, Alan Stenum |
| Pirates | .... | Derek Paulson, Sean Cotter, Jim Owen, Alan Stenum |
Screenings
Edit
The film has shown at the following locations and times:
Vancouver, BC - Friday, May 2, 2008, Park Theatre - Chris Strompolos in attendance - benefit for the Canadian Cancer Society - hosted by Kick-Start Cardio
External links
Edit