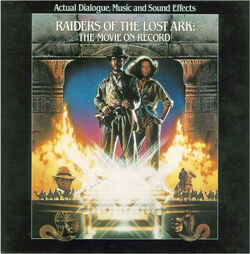 Raiders of the Lost Ark: The Movie on Record was released by Columbia Records in 1981. It is an LP-length condensation of the movie's soundtrack, including dialogue, music, and sound effects. Unlike the later "story of" albums for Temple of Doom and Last Crusade, this album does not feature any outside narration.
Appearances
Edit
Characters
Edit
Ad blocker interference detected!
Wikia is a free-to-use site that makes money from advertising. We have a modified experience for viewers using ad blockers

Wikia is not accessible if you've made further modifications. Remove the custom ad blocker rule(s) and the page will load as expected.