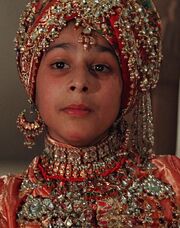 Raj Singh played Maharajah Zalim Singh in Indiana Jones and the Temple of Doom. Despite the character being named in the movie, he is credited as "Little Maharajah".
Raj now resides in Chicago IL and works as an Air Traffic Control Coordinator for United Airlines. 
External links
Edit
Ad blocker interference detected!
Wikia is a free-to-use site that makes money from advertising. We have a modified experience for viewers using ad blockers

Wikia is not accessible if you've made further modifications. Remove the custom ad blocker rule(s) and the page will load as expected.