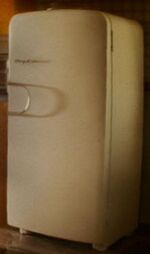 A refrigerator is an apparatus for storing foodstuffs. The first practical refrigerator was invented in 1876 and electrical refrigerators became available in 1913. King Cool was a manufacturer of refrigerators by the late 1950s.
Indiana Jones used a King Cool refrigerator set up in a mock household in 1957 to successfully survive the test bombing of Doom Town, and around that time also considered acquiring a Wizard refrigerator for its durability he had seen advertised.
Appearances
Edit
External links
Edit
Ad blocker interference detected!
Wikia is a free-to-use site that makes money from advertising. We have a modified experience for viewers using ad blockers

Wikia is not accessible if you've made further modifications. Remove the custom ad blocker rule(s) and the page will load as expected.