"Dr. Jones, what you look at?"
This article would greatly benefit from the addition of one or more new images. Please
upload
a relevant image and place it here. Once finished, this notice may be removed.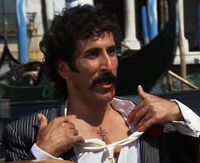 "Who are you?"
The title of this article is conjectural. Although this article is based on canonical information, the actual name of this subject is pure conjecture. Please see the reasons for this title in the "
Behind the scenes
" section below, and/or the relevant discussion on the
talk page
.
Rough Man: "If you was my wife, you'd be lucky to get a penny."
Indiana Jones: "If you were her husband, she'd need all the luck she could get."
―Rough Man and Indiana Jones
The Rough Man was a working-class heckler at the meeting of the East London Suffragettes in May 1916. He and his friends were drunk and stood up in the balcony taunting the speakers, including Sylvia Pankhurst, and began to interrupt Maisie Kemp when she began to speak on the subject of equal pay in her East End cockney voice. After the rough man and his friend continued to jeer Kemp, a man in the audience turned around one of the rough man's insults on himself, and with the crowd's applause, the Kemp regained her confidence and continued her speech.
Behind the scenes
Edit
The role of the Rough Man was played by Ed Stobart.
Appearances
Edit
Ad blocker interference detected!
Wikia is a free-to-use site that makes money from advertising. We have a modified experience for viewers using ad blockers

Wikia is not accessible if you've made further modifications. Remove the custom ad blocker rule(s) and the page will load as expected.