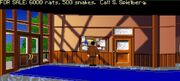 S. Spielberg was a person who had posted a note on the Barnett College bullentin board, announcing that they had 6000 rats and 500 snakes for sale in 1938.
Behind the scenes
Edit
This is one of the many intertextual humorous references, typical of LucasArts point-and-click games. Here, the joke is based on the large quantities of rats and snakes used in Raiders of the Lost Ark and Indiana Jones and the Last Crusade, directed by Steven Spielberg.
Appearances
Edit
Ad blocker interference detected!
Wikia is a free-to-use site that makes money from advertising. We have a modified experience for viewers using ad blockers

Wikia is not accessible if you've made further modifications. Remove the custom ad blocker rule(s) and the page will load as expected.